If you don't have time to cook a nice full meal for dinner with takes sufficient time, jump to another option – sheet pan or one pan idea. This sheet pan dinners are the best and easy way to get healthy and save your time. Also, this is a quick method and easy to clean up your dish after eating. In this sheet pan, you can make any type of food that you love to eat. You can make chicken or plan based dinner in this sheet pan easily.
You need to do simple meal prep for lunch or dinner and so easy to clean up. By sheet pan, you can cook any recipes or ingredients such as chicken, shrimp, pork, any type of fish, any kind of vegetables. You can cook any healthy and comfortable satisfying meals whatever you like to eat at lunch or a busy weeknight dinner.
But what is a sheet pan for cooking? – a sheet pan is a wide and shallow baking tray or pan that usually made with aluminum or stainless steel which is used in an oven. A sheet pan is one of the most versatile and used in many baking and cooking processes like different types of dishes or meals, pastries, pizzas, cookies, cakes, and vegetables, bread rolls, any types of meats, etc. But sheet pan is used for not only this, but it can also use for cooking racks which are perfect for foods like bacon, grilled foods, etc.
So let's jump to these amazing delicious sheet pan dinners and enjoy a meal with your family or friends.
---
[jetpack_subscription_form subscribe_placeholder="Email Address" show_subscribers_total="false" button_on_newline="true" submit_button_text="Subscribe" custom_background_emailfield_color="undefined" custom_background_button_color="undefined" custom_text_button_color="undefined" custom_font_size="16″ custom_border_radius="0″ custom_border_weight="1″ custom_border_color="undefined" custom_padding="15″ custom_spacing="10″ submit_button_classes="has-text-color has-background-color has-background has-vivid-red-background-color" email_field_classes="" show_only_email_and_button="true" ]
---
21. Sheet Pan Garlic Ginger Chicken and Broccoli
This sheet pan garlic ginger chicken and broccoli meal prep is an easy and colorful dish. This sheet pan meal is also the best option for lunch.
Get the recipe here.
---
20. Sheet Pan Pork Tenderloin With Roasted Vegetables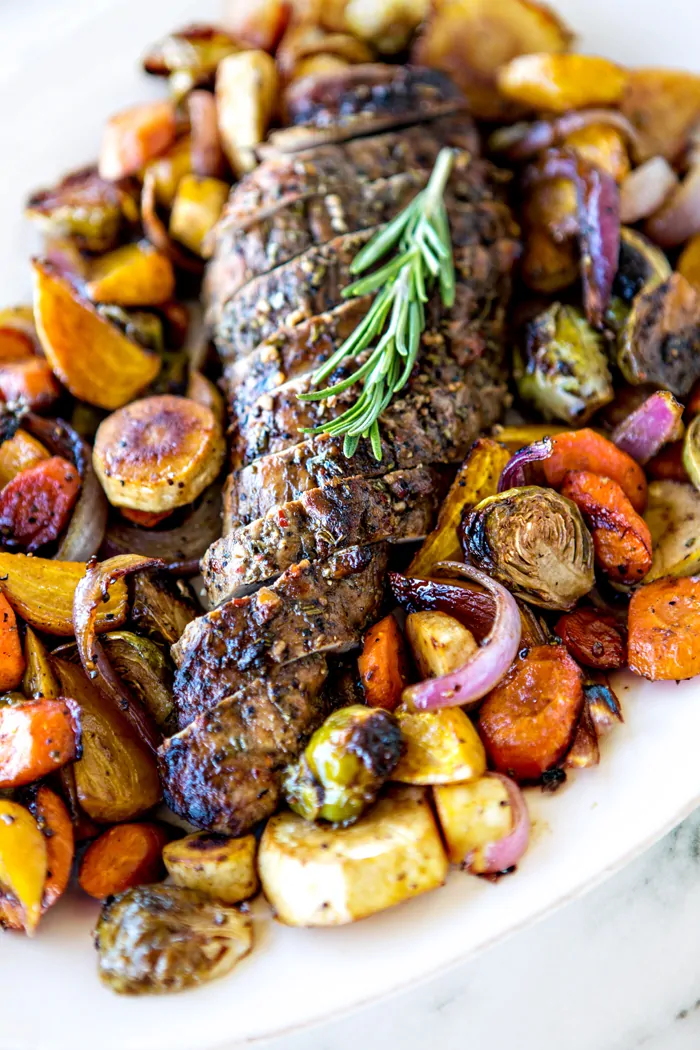 Sheet pan dinner just quick and easy meal that loaded with pork cover with sauce and roasted vegetables like carrots, onions, golden beets, Brussel sprouts and you can choose any vegetables you like.
Get the recipe here.
---
19. Mini Meat Loaf Sheet Pan Meal
Mini meatloaf sheet pan with veggies is a nice and comfortable meal for lunch. Easy to make and quick dish in one pan and easily clean up.
Get the recipe here.
---
18. Sheet Pan Dinner with Maple Glazed Salmon, Sweet Potatoes and Broccoli
With only 5 ingredients this sheet pan maple glazed salmon with sweet potato and broccoli dish is ready within 20 minutes. This meal prep is the best way to get a healthy meal on your table at lunch or dinner.
Get the recipe here.
---
Related meals you need:
---
17. Chicken and Gnocchi Sheet Pan
Chicken and gnocchi sheet pan meal is one of my favorite sheet pan dinner recipes. Even this sheet pan recipes are also a weeknight favorite dinner meal for my family. This meal is ready within 20 minutes and so tasty that best for lunch.
Get the recipe here.
---
16. Smoked Sausage, Potatoes, and Veggies Sheet Pan Dinner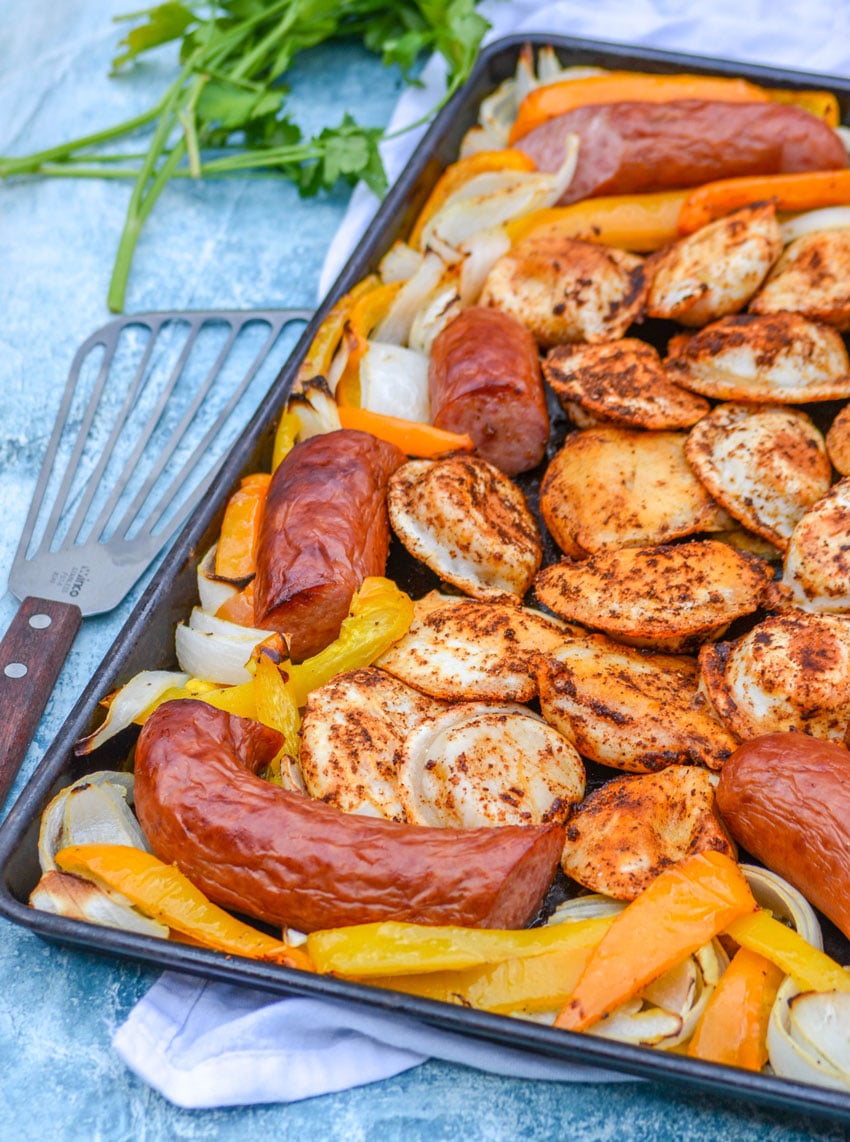 This sheet pan sausage, potatoes, and veggies dinner meals are quick and easy to make at home. This sheet pan recipes are the perfect easy meal for a busy weeknight and easy to clean up.
Get the recipe here.
---
Related: Keto Sausage Recipes
---
15. Sheet Pan Spinach Herb Baked Chicken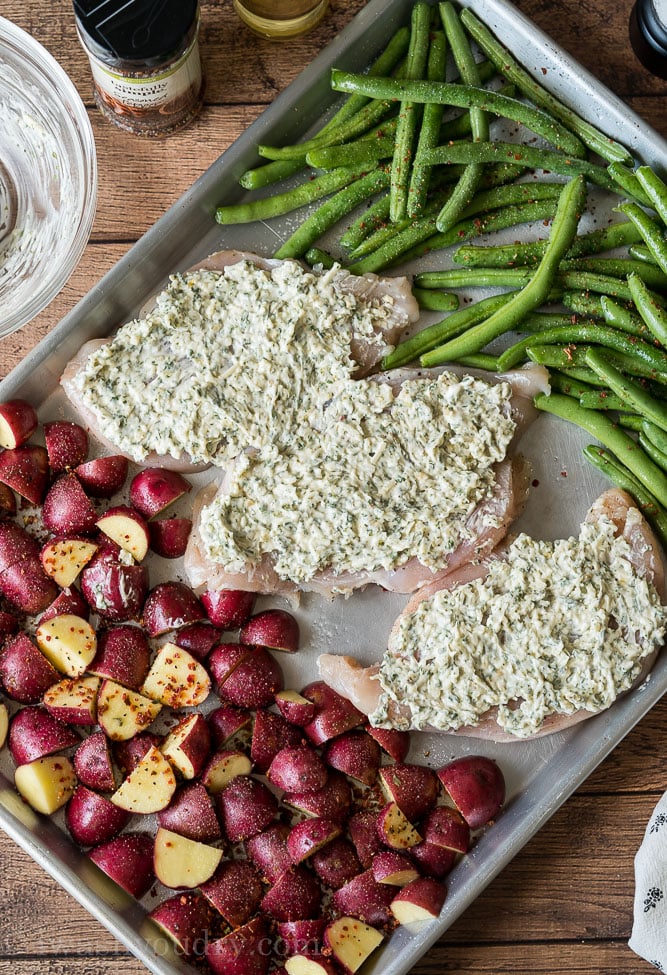 This spinach herb baked chicken is a healthy and delicious meal. That loaded with spinach chicken breasts, sweet potatoes, and fresh green beans. All these ingredients are baked in one sheet pan that you will need at lunch.
Get the recipe here.
---
Suggested: Keto Chicken Recipe Ideas
---
14. Parmesan Roasted Cauliflower and Chicken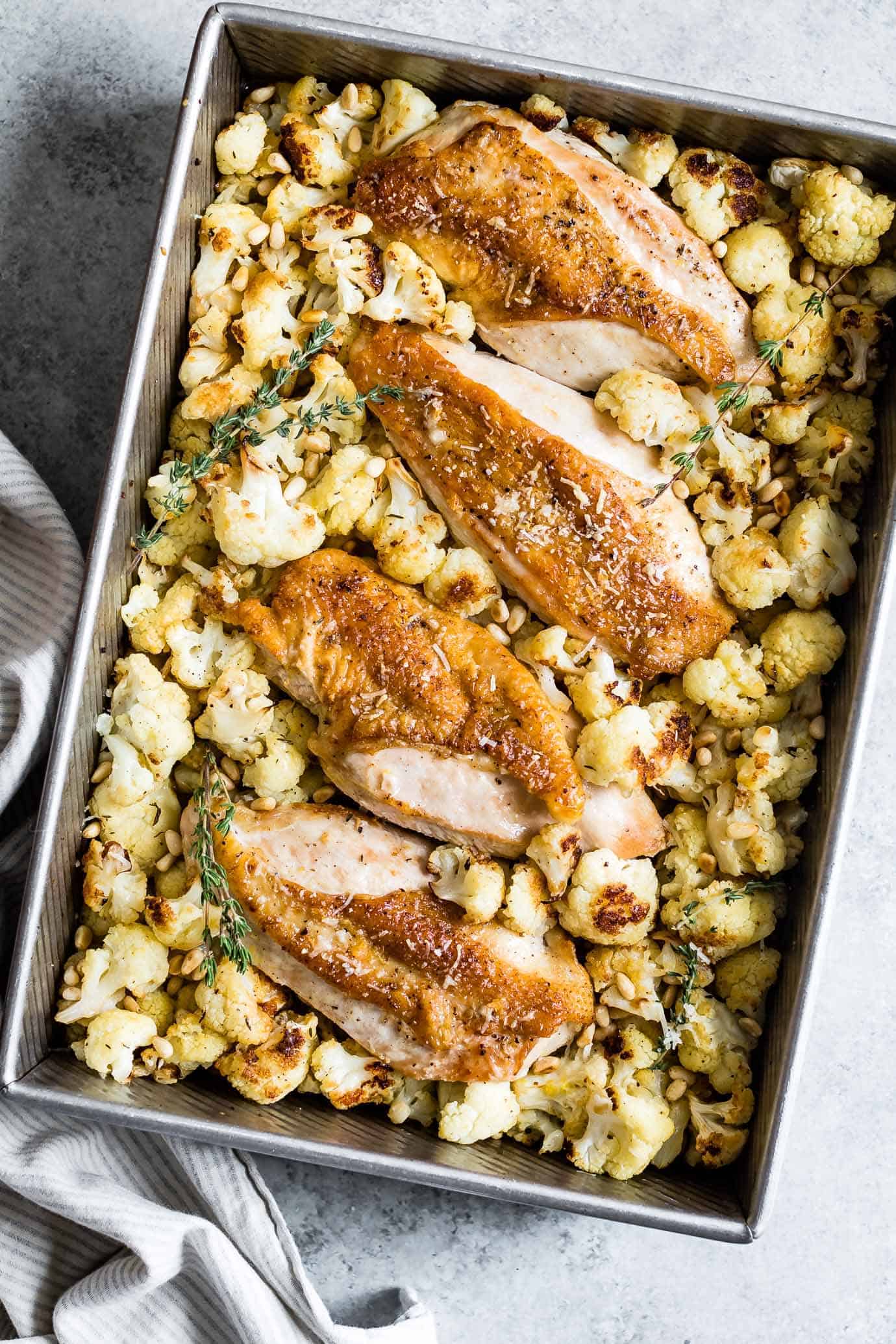 Need some delicious and comfort food at dinner? Try this sheet pan parmesan roasted cauliflower and chicken that easy to prepare and delicious.
Get the recipe here.
---
Related: Cauliflower Baked Casserole Recipe
---
13. Sheet Pan BBQ Tofu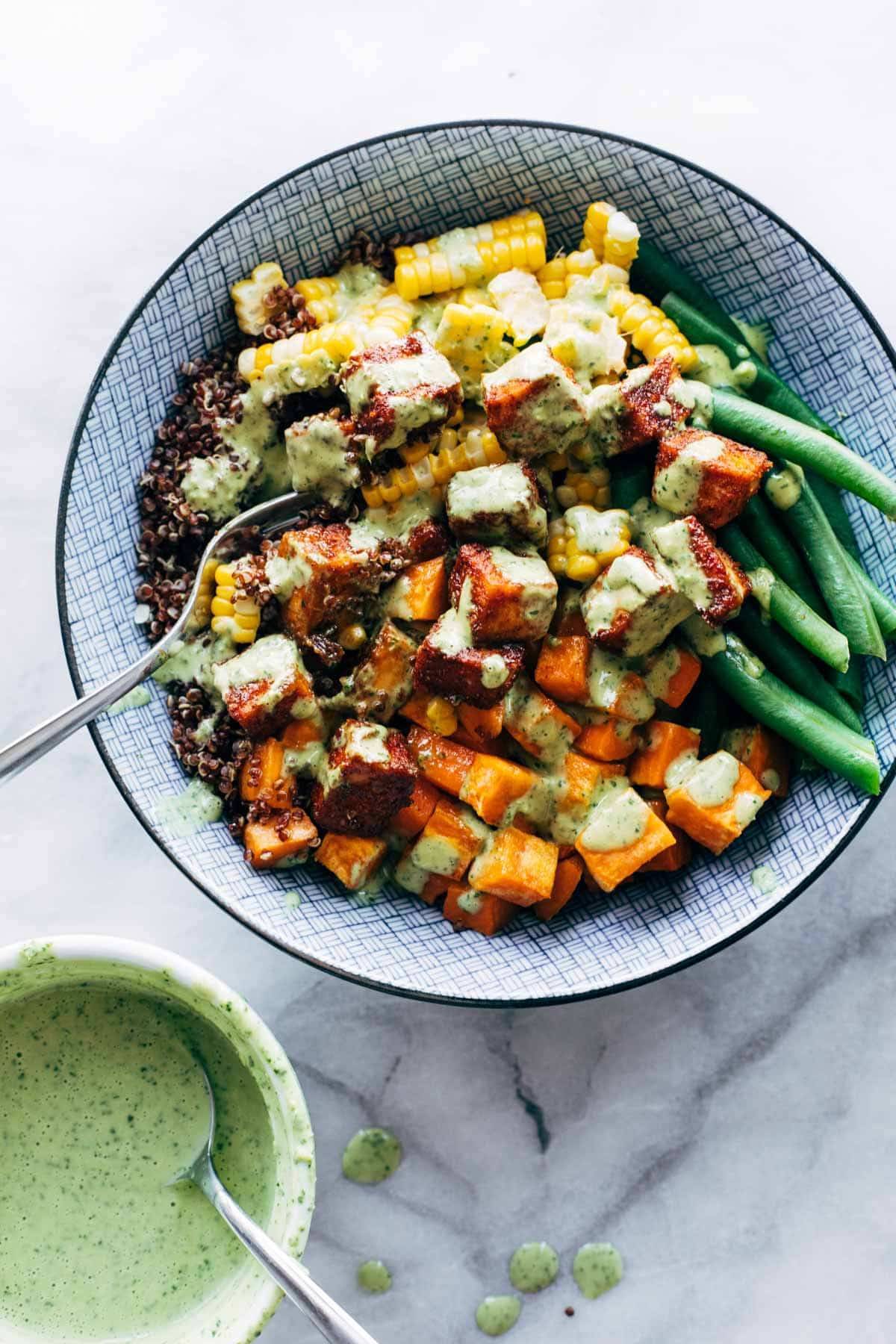 Tofu is a delicious healthy dish that you can take it as a snack. And this sheet pan BBQ tofu makes a delicious healthy snack meal that you need to try.
Get the recipe here.
---
12. Garlic Herb Chicken and Potato Meal Prep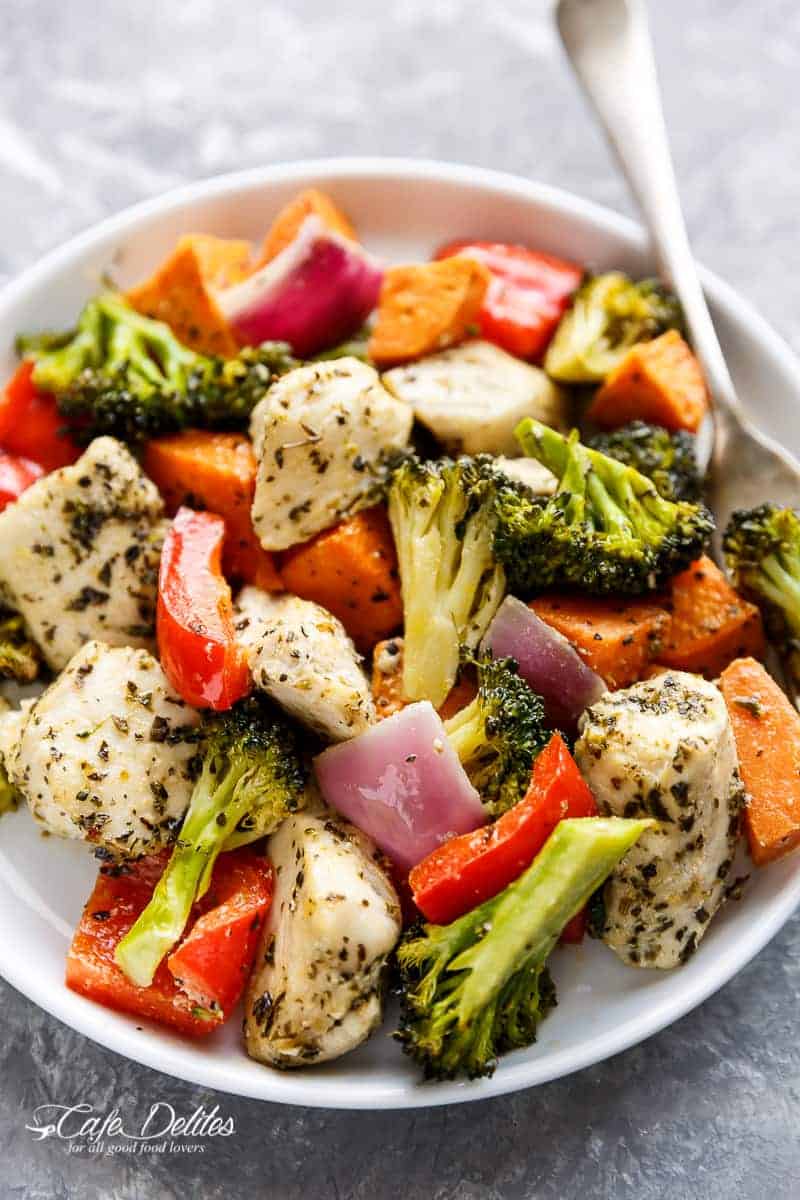 This garlic herb chicken potato meal is so flavourful and healthy. This meal is easy to make at home at lunch or dinner time and you need only 20 minutes to prepare this meal.
Get the recipe here.
---
Related: Keto Dinner Ideas
---
11. Sheet Pan Chicken Tinga Bowls
This sheet pan chicken tinga bowls is so just, healthy, and delicious. Paired with bell peppers, quinoa, black beans, and juicy saucy boneless soft chicken. These bowls are perfect lunch or sheet pan dinners when you are busy at work.
Get the recipe here.
---
10. Keto Sheet Pan Pizza
Pizza lover but you are on a diet? Try this healthy keto sheet pan pizza at home. Melty, soft, cheesy, and delicious this pizza makes your mood happy instantly. Also, this is my favorite sheet of pan dinners.
Get the recipe here.
---
Related : Veg Pizza Recipe
---
9. Orange Chicken Sheet Pan Dinner
Sheet pan orange chicken recipe is a delicious and tasty dinner that made with chicken breasts, orange juice, broccoli, and other simple ingredients. I need to try at home this delicious recipe.
Get the recipe here.
---
8. Potato, Bacon, and Egg Sheet Pan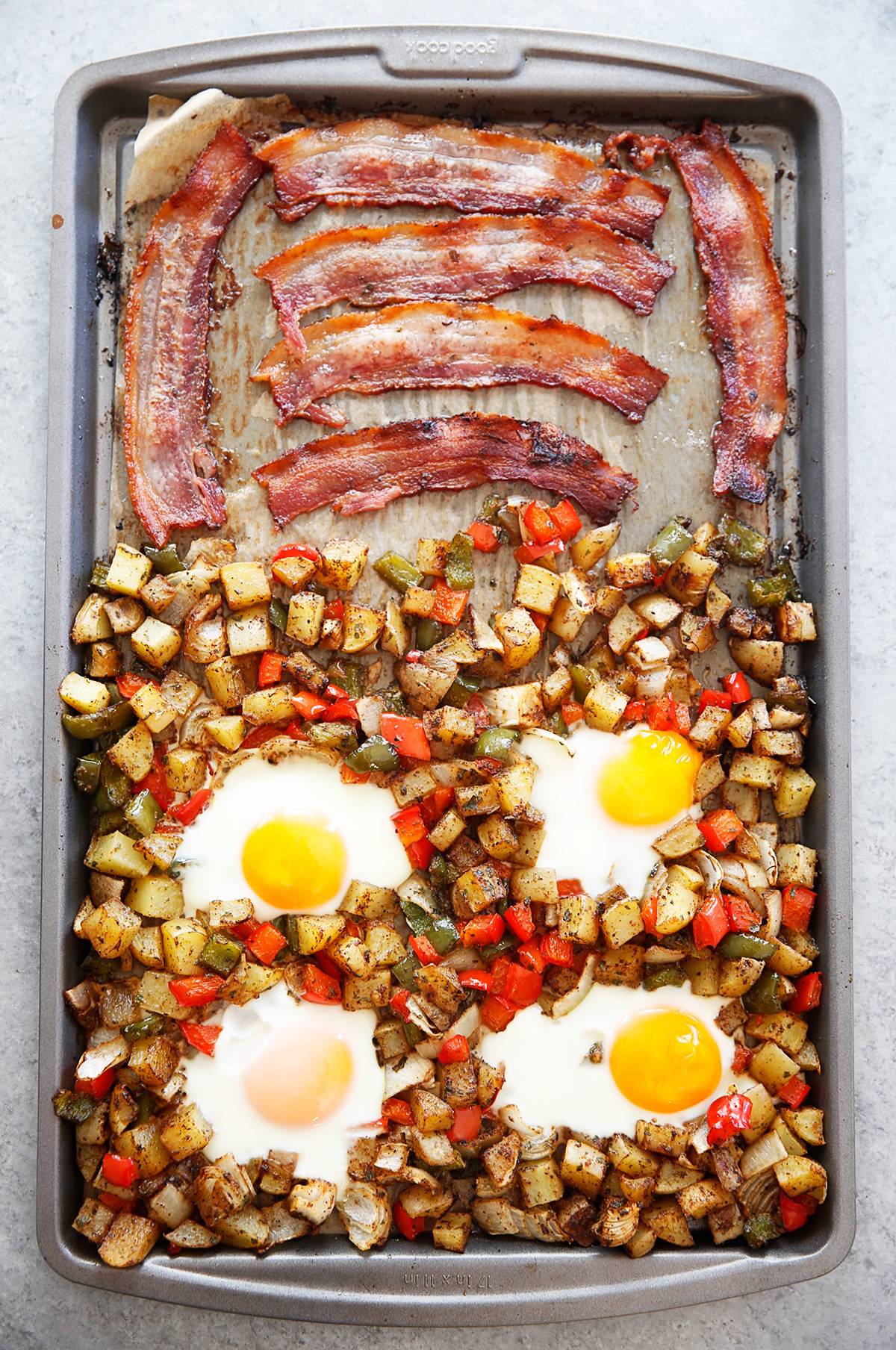 The perfect breakfast meal for the weekend. Potato, bacon, and egg dish in one pan is best for makes a crown in weekend brunch or breakfast meal or clean sheet pan dinners.
Get the recipe here.
---
Related: Keto Breakfast Recipes
---
7. Sheet Pan Lemon Garlic Shrimp and Vegetable Linguine
This recipe is your new sheet pan dinner that you will love. Lemon garlic pasta that toasted with shrimp and veggies. A perfect combination of healthy dinner ideas for a busy weeknight.
Get the recipe here.
---
Related: Keto Pasta Recipes
---
6. Sheet Pan Fajitas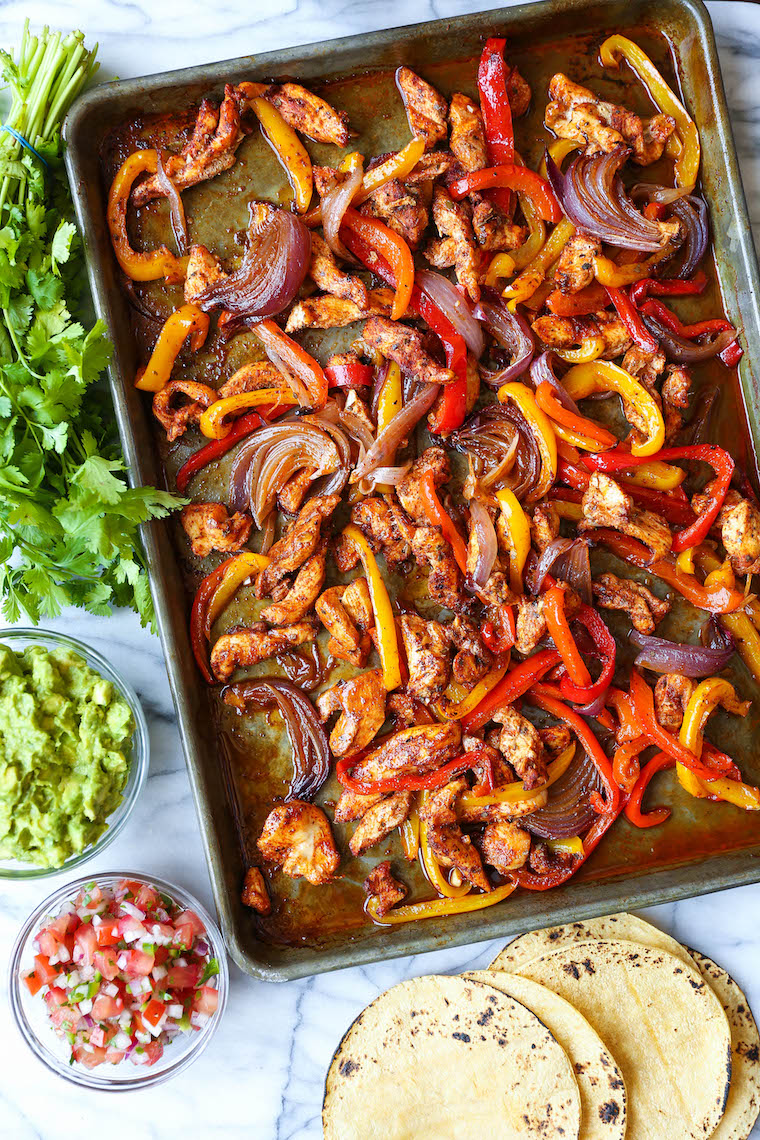 This sheet pan fajita is a very delicious and healthy quick meal plan. Loaded with chicken tenders and veggies that best for lunch or dinners.
Get the recipe here.
---
5. Cajun Shrimp and Sausage Vegetable Sheet Pan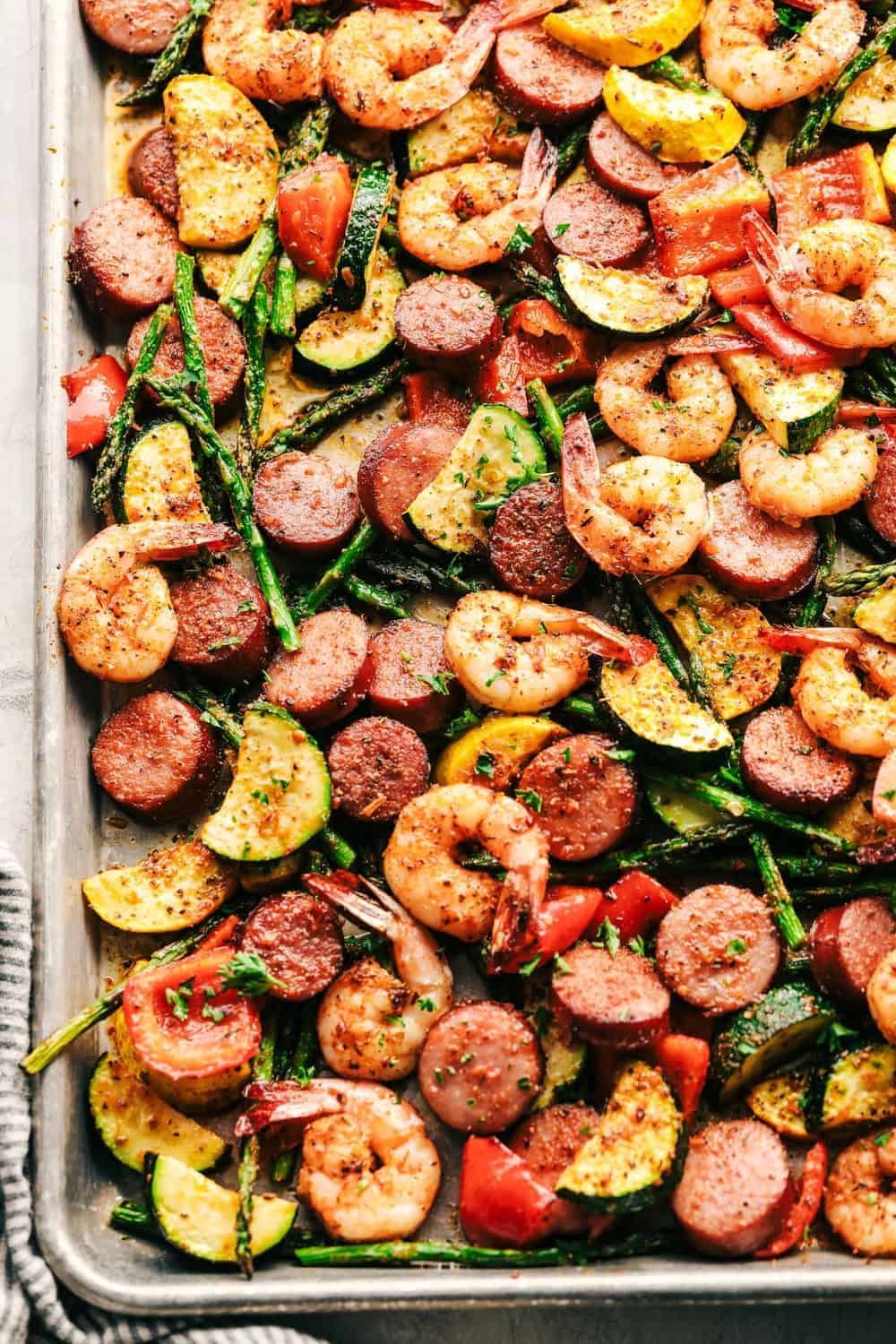 This cajun shrimp and sausage vegetable sheet pan is so flavourful and packed with delicious cajun flavor. This recipe is made with sausage, shrimp, and veggies, you can add any vegetables you like. Easy to make and quick meal for a busy day.
Get the recipe here.
---
Related: Roasted Shrimp Recipes
---
4. Sheet Pan Chicken and Asparagus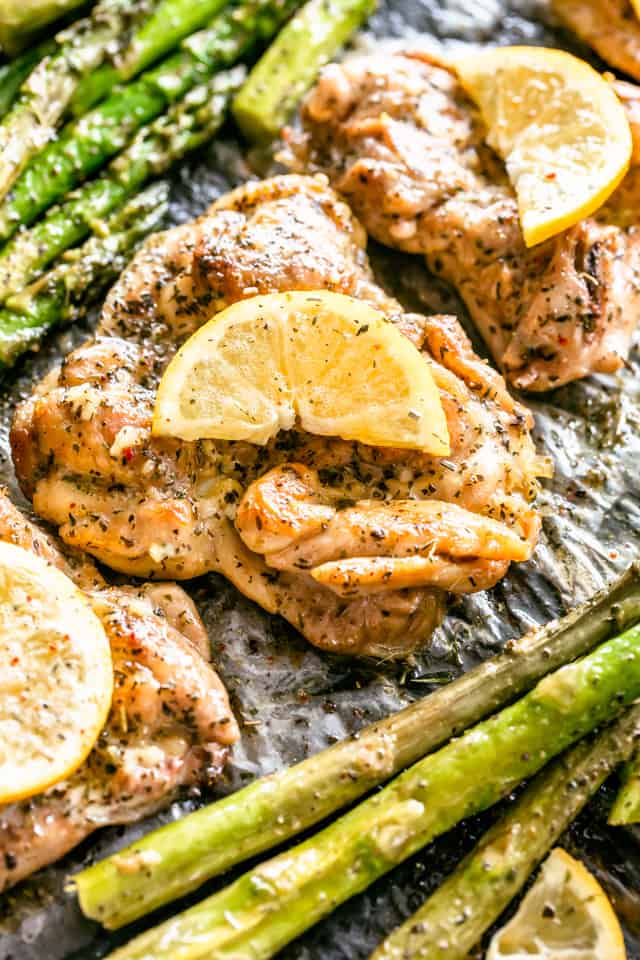 This 30 minutes lemon garlic butter chicken with asparagus one-pan dish is a perfect and easy meal for weekend dinner. Makes your sheet pan dinners bursting with delicious flavors.
Get the recipe here.
---
3. Sheet Pan Cheesy Zucchini and Sausage
Loaded with zucchini and sausage, topped with lots of cheese that makes a beautiful meal plan dish.
Get the recipe here.
---
2. Crispy Parmesan Garlic Chicken
This crispy parmesan garlic chicken is so crispy and soft. For a healthy and delicious meal for lunch or dinner, you can add any veggies like asparagus or potatoes or whatever you like with crispy chicken breasts.
Get the recipe here.
---
1. Crispy Cheddar Pork Chops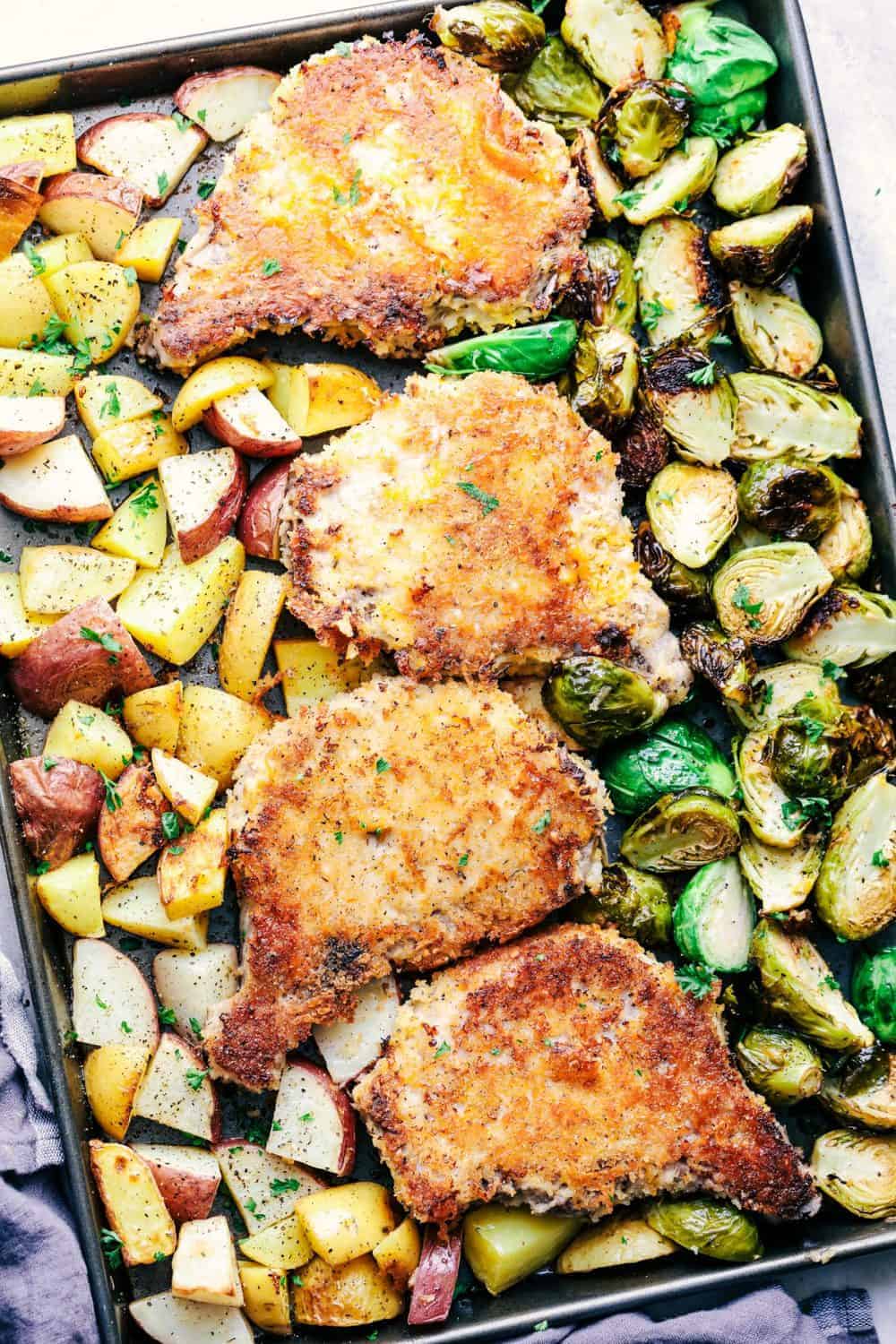 This crispy pork chops tender makes a perfect unforgettable meal. That packed with potatoes, sprouts, and cheddar crispy pork chops. Need to try at home this sheet pan dinners.
Get the recipe here.
---
---
If you like this article about sheet pan dinners, please share this with your friends on Facebook, Twitter, and Pinterest. Also, you can subscribe to my blog to get all the latest articles first on your mobile.
SHARING IS CARING!
FACEBOOK | TWITTER | PINTEREST
Did you like this recipe and make it later at home? SAVE this pin to your favorite board on Pinterest!